The Cottesmore Hunt
The Cottesmore Hunt
1666 – 2016
Take this unique 350th year opportunity to acquire a piece of Cottesmore Hunt history for your home or for someone you love. There are three ways you can do this:

Buy the original by artist Paula Vize – if not already sold
Buy a high quality artist canvas limited-edition framed version signed by all the masters, with a history of hounds, for £350
Buy a limited edition box canvas copy in high resolution reproduction for £150
See Martin Reason or Clare Bell to place your order...


The Pick of the Pack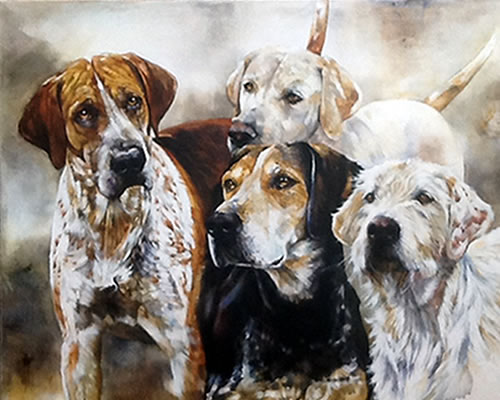 Monarch 15 Barber 12 Brainwave 11 Hassle 12

Heritage
The reason for picking the particular hounds for this wonderful painting was to give a taste of some of the important breeding lines that are represented within the kennels where we have over 55 couple of hounds. Therefore, picking two couple for this wonderful painting I felt that it was important to choose not only distinctive hounds that are great in their work but those that represent the most important blood lines. The Cottesmore is now renowned for the mix in the kennels of a Modern English hound produced from a mix of blood using the Old English base with outcrosses to Welsh, American and Fell hounds. This produces the hybrid vigour coupled with the desire to hunt so needed in the modern agricultural country that we hunt across, whilst retaining the historical breeding that has done so well for generations. This painting not only gives such a marvellous true representation of these hounds but also captures their very essence.
Monarch 15
An Old English cross stallion hound using a line on the sire side that Captain Ronnie Wallace MFH used successfully going back to Brocklesby Bellman 1847. On his dam's side he is out of Balmy whose line comes from the Carlow Stylish 63 (line 46 generations to Badsworth Tigress 1817). This Irish line, brought in by Captain Brian Fanshawe MFH is very much sought after by many hunts both here, in America and in Ireland.He has been used as a stallion hound by other hunts.
Barber 12
A stallion hound used by various hunts with breeding via Duke of Beaufort Galahad back forty generations to Quorn General 1784. A typical modern Cottesmore lemon hound, just a good old solid soldier. The brother of Monarch's dam . An asset in every way and has won prizes at The Royal Foxhound Show at Peterborough.
Brainwave 11
This distinctive black bitch has been used as a brood bitch. Though perhaps not the best looker in the kennels, she is incredible in her work and in her determination to lead every hunt. Her top line goes via the Bedale and Heythrop again back as far as Quorn General 1784, with her bottom dam line going through Carlow Stylish 63. Maddeningly brilliant in her work. Nearly too good, but has made some great days by her steadfastness.
Hassle 12
This bitch is archetypal of the woolly Cottesmore hound. Broken coated with lines gaining so much from pedigrees including the American line of Midland (USA) Hardaway 89 and New Forest Medyg 69 going back all the way to Glog ( Welsh) Gambler 1897. She has been used as a brood bitch and turns out day after day to show sport.
A.D. OSBORNE, MFH
---
Welcome
Welcome to the Cottesmore Hunt's website. Within our site you will find the history of the Hunt and its supporters club, an account of the breeding and bloodlines of our famous hounds, a description of our country (the area we cover) with an interactive map highlighting points of interest, a who's who of officials and staff, details of the different subscription packages, calendars for our future social events, a list of what we currently have on sale in our memorabilia shop and details of how to get in touch with us. There are also details of (or links to) our other related activities such as point-to-point racing, Pony Club and the Hedge-cutting Society. We also — as you will have seen — carry advertisements. Please give your business to our advertisers: help them to help us.
The government ban in February 2005 led to some changes in the way hounds are permitted to hunt while remaining within the law, but although second-best to traditional foxhunting, excellent sport is still possible using a combination of laid trails and flushing to a bird of prey for the bird itself then to hunt.
"For the truest sport, the straightest foxes, for perfection of country, for long runs and fast runs, commend us to the wild pastures of the Cottesmore. A wide spread region scarcely inhabited; ground that carries a scent in all weathers; woodlands which breed a travelling race; and mile upon mile of untracked grass, where a fox will meet nothing more terrifying than a bullock — no wonder, then, the finest runs of the season are with the Cottesmore; that more hard riders and grand horses are present when Ranksboro' is drawn then are ever mustered elsewhere; or that the Punchbowl and Stapleford are names to make us stir in our chairs..."
So said Edward Pennell-Elmhirst ("Brooksby") in 1882. Those familiar with the area will realise that the country has changed a bit since then. But the Cottesmore's famous hounds have more than kept pace with these changes: they are lighter and more athletic than their forebears and are better able to follow a weak scent amid exhaust fumes and the distractions of modern agriculture.
From 1666 until 2005, the Cottesmore (say 'Cotsmore'*) had hunted foxes with hounds in and around the ancient English county of Rutland. In spite of the construction of Cottesmore airfield in 1935, the completion of Rutland Water reservoir in 1978 which removed 3100 acres (1255 hectares) of hunting country, widespread national hunt saboteur activity in the late 1980s and the 2004 Hunting Act, the Cottesmore continues to flourish, hunting within the law. Its country converges with that of its neighbours the
Quorn
and the
Belvoir
(Duke of Rutland's Hounds) in the Leicestershire market town of Melton Mowbray which in its heyday was a magnet for foxhunters worldwide and now has the UK's only
foxhunting museum
.
* - from Cott's Moor
350 years and still going strong. For'ard on!